Geoffrey S. Grisham, ASA, CVA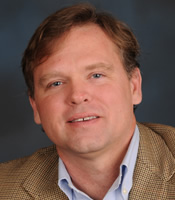 Geoffrey S. Grisham has been with CapVal-ABA since 2008 specializing in the valuation of life science, software, and other technology companies, as well as intangible assets associated with technology.  His practice includes valuations required for financial reporting, gift and estate, Corporate Restructuring, Merger and Acquisition planning, and ESOPs.
Prior to joining CapVal-ABA, he held key financial management positions in multiple venture backed companies including Inspire Pharmaceuticals, Paradigm Genetics, AlphaVax Human Vaccines, and Integrian.  Before working in early-stage companies, he graduated from GE's Financial Management Program and worked for GE's Corporate Audit Staff.  Geoff received a B.A. in Economics from the University of North Carolina – Chapel Hill.  He is a member of the American Society of Appraisers and the National Association of Certified Valuators and Analysts which have awarded him, respectively, the Accredited Senior Appraiser (ASA) and Certified Valuation Analyst (CVA) designations.
E-mail Geoff Grisham at ggrisham@capval-llc.com or call him at 919-656-6138.
Professionals
Featured Projects

Green Power Company Valuation
CapVal-ABA has valued a multi-million dollar charitable gift of green power company stock for Research Triangle Park-based senior executive.

Law Firm Valuation
CapVal-ABA provided appraisal of lawyer's interest in law firm for marital estate through this law firm valuation.